Enrolling to Edutech M.Sc.
After applying and receiving an admission letter, the next step is the
enrollment
. Also referred as "matriculation" or "registration", enrollment basically means being officially registered at Saarland University. Listed below you will find all the important tasks you need to do to complete your enrollment.
Not all of those tasks apply to all accepted students
, so we recommend 
reading all the information
, and
focus on what applies to your situation
with enough anticipation.
The Admissions Office has created a
Guide for Enrollment
, so please follow it step-by-step. Also check out these articles from the
Welcome Center
with information to help you
prepare your stay
, specific info about the
Winter Semester 20/21
, and about the
intercultural student life at the Uni.
After receiving the official admission letter…
You can expect to receive your application result in the first half of September 2021. We will email you an official admission/rejection letter from Saarland University.
If you have received your admission letter, congrats!
Once you receive your admission letter and you decide to join us, you will need to start with the enrollment process. The deadline for completing the enrollment will be indicated in your admission letter. The enrollment process starts officially in August, but some of you (non-EU students) may need to start getting your documents even before. The image below describes the process and when each step should be taken. The topics named on the image are names of the headers/topics you will find below on this page. All cases are different, so please adapt the schedule to your particular situation (the image is only a general overview of 2020; classes in 2021 might start by mid-October).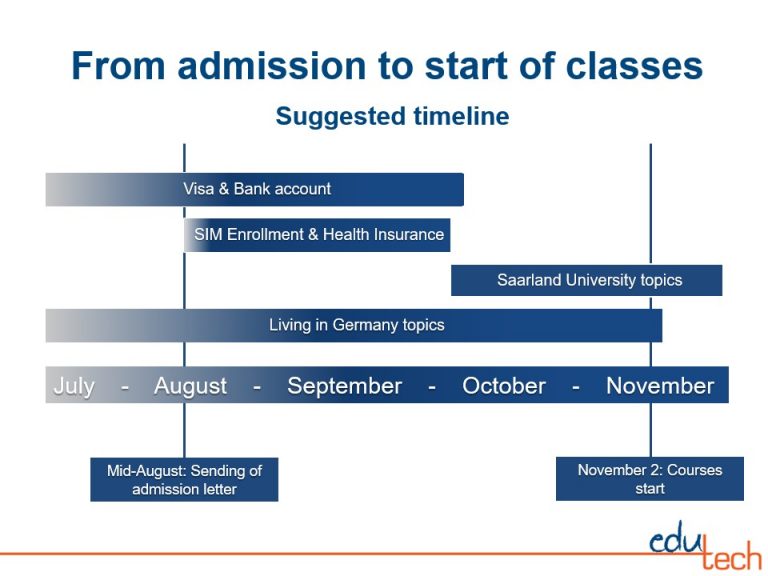 Only for Non-EU students: Visa & Bank account 
Please check out this webpage from the DAAD which provides a good overview of the visa requirements to study in Germany.
Appointments and requirements for visas vary from country to country and the procedure for obtaining a visa can take up to three months, in some cases longer. Therefore, we recommend to reach out to the German mission(s) (embassies or consulates) from your country with enough anticipation to learn about the requirements for requesting a long-term German study visa and to set up a visa appointment.
Important: One of the requirements for obtaining a visa is to show proof of financial resources "Acceptable forms of proof include proof of parental income, an allocated amount on a blocked account ("Sperrkonto") or proof of receipt of a recognized scholarship" (refer to "Bank account" below). However, some of these acceptable forms of financial resources proof may not be accepted by the German mission in your country. Therefore, we recommend to find out with enough anticipation which documents your country's German mission requests for the visa application process, how long waiting time is for a visa appointment, and how much time it takes to receive the visa.
Having a European/German bank account is another important thing to set-up as early as possible. Some healthcare providers may require you to have one as a requirement to complete your registration on their insurance system.
Opening a blocked bank account: Normally international students already have a blocked account (usually at the 'Deutsche Bank') due to the visa requirements of the German embassy before coming to Germany. Once in Germany, the students have to go to a local branch of the Deutsche Bank with their passport, their verification of the blocked account and with their registration certification to annul the lock flag of the blocked account and to apply for access at the online-banking for future money usage.
Another option is Fintiba which "is officially approved by the German Federal Office" and is an online alternative that presents less bureaucratic procedures.
Opening a non-blocked bank account: In case you're not required to open a blocked account, you can open an account on any bank in Germany. It is highly recommended to do this, specially for non-EU students. The amount of offers is very big, with some banks having special deals for students. It's very easy to find bank account and card offers with 0 monthly/ yearly payments. Besides Deutsche Bank, other popular banks are: Sparkasse, Santander, Commerzbank, Postbank, Comdirect, DKB, N26, ING, and 1822direkt. Opening a bank account in Germany normally takes more than one day because you need to schedule an appointment at the bank (so they can check your identity and documents) and then wait for your login details and card which will be separately sent by post to your address in Germany. This also means that for doing this you already need to have an address in Germany. Some banks do the identity check online. Requirements and time required to obtain a card and account vary from each bank. 
Disclaimer: The bank account providers mentioned are only some of the existing options in the market and are only listed for information purposes. We do not endorse, sponsor or have any partnership with any of those providers.
For all accepted students: Enrollment to the master via SIM platform
Enrollment and enrollment platform
If accepted, you will get an admission letter to your home address and also via e-mail. The acceptance letter will detail the steps to follow for enrollment and the deadline for completing it. The enrollment is done online through the same SIM platform you used for applying to the master. The Admissions Office has created a Guide for Enrollment, so please follow it step-by-step. You will need to submit several documents for your enrollment such as passport, admission letter, application for matriculation, ID-photo, payment receipt of semester fee, and proof of health insurance.
Note: Remember that you will also need to upload certified translations of any document that is not in English or German. Don't forget to also bring those documents when you come to Saarbrücken.
If you have technical questions regarding the enrollment procedure or difficulties with the SIM platform, please contact the Studierendensekretariat (Admissions office – anmeldung@uni-saarland.de) or the Welcome Center. We (the staff from the Edutech dept.) do not have access to the enrollment platform nor to your enrollment documents, therefore, we would not be able to assist you at this stage of enrollment.
As part of the enrollment procedure, you need to pay your first-semester fee (link in German). The bank details will be sent to you once you are officially accepted. Pay the semester fee and keep the receipt from your bank. You need it as proof that you have already paid.
Note: Only pay the semester fee once you have received your admission letter and when you're sure that you will be able to complete the enrollment process on time.
Health insurance coverage
In Germany, each student, and in fact everyone, must have health insurance coverage. Proof of health insurance coverage is an essential document for your enrollment, matriculation and for the residence prolongation. Only if you already have a German insurance or if you own a European Health Insurance Card (EHIC), you will not need to take out an additional German health insurance. "Students from countries outside the EU will need to purchase student health insurance cover from a health insurance provider in Germany". Without proper health insurance coverage you are not allowed to complete the enrollment. Things like traveler's health insurance are not recognized as official health insurance coverage.
In Germany, there are two types of health insurance coverage: public (a.k.a. "state" or "statutory") and private. For students, a public insurance is recommended.
Public insurance: Among the state healthcare providers, there are special insurance coverage offers for students. Prices are fairly advantageous, costing around €80-€120 per month. The most famous state insurance companies are AOK, BKK, DAK, KKH, TK, and IKK Südwest.
Visit this page from the Welcome Center to learn more about public health insurance options available at the campus and how to reach them.
Private insurance: This option is often used for short stays in Germany, for example when attending a language course or exchange semester. Some private insurances are: "Mawista", "CareConcept", "Educare24", "AXA", "CareMed", 

etc

. 
For your master's studies, getting private insurance instead of a public one is an option, however, there are some advantages and disadvantages. The main advantage is that private insurances tend to be on average cheaper than the offers from public healthcare providers. The reason for this is that the coverage and benefits are less, with this being their main disadvantage. Using a private insurance generally requires you to pay upfront when you have an appointment; afterward, the insurance company pays you back, as soon as you send them the bill of your treatment expenses. You should pay attention to the conditions of the private insurance companies, and that they are recognized by the university as a healthcare provider before you choose the company you want to be insured by.
Disclaimer: The public and private healthcare providers mentioned are only some of the existing options in the market and are only listed for information purposes. We do not endorse, sponsor or have any partnership with any of those providers.
Saarland University topics:
Your UdS card is very important because, in addition to being your student ID, it will allow you to use the services and benefits that you're entitled as a student, such as using the public transport for free within the Saarland region, paying in the restaurant facilities from the university (i.e. Mensa), having access to the sport offers from the university, going to cultural events for free, and much more!
To obtain your UdS card, visit the Kartenbüro (link in German) once you're successfully enrolled. You will learn more about the requirements for obtaining your UdS card after completing the enrollment. For further questions or problems, you can contact the Studierendensekretariat (admissions office) or reach out to the Welcome Center.
Note: bear in mind that this process is done in-person and the opening hours of the Kartenbüro are limited (from Mo. to Fr., from 8:00 AM up to midday). Obtaining your UdS card can be done before or after the semester starts, provided that you completed your enrollment on time. The price of your first UdS card is already paid in your semester fee.
LSF system for course registration
After you are successfully enrolled, you will receive your username and password from the Studierendensekretariat. The so-called LSF system is the platform that you will use throughout your master studies to register for courses and their exams. You can already browse it and find our Edutech courses (bear in mind that the system is still being updated throughout the semester break). However, you do not need to enroll for courses before the semester starts. Our tutors will show you in detail how to use the LSF during our introduction event on the first day of the master. So no stress 🙂
Saarland University WLAN network (Eduroam)
To access 'Eduroam', the Wi-Fi network of the university, you need to be formally enrolled because you will need the same username and password that is used for the LSF. The following page (link in German) from the University IT Center (HIZ) explains the methods for accessing the University WLAN depending on your device.
To download your enrollment certificate or other university-related certificates, you need to have your student ID and password to access to SIM Portal. As soon as the enrollment has been completed, you will receive a letter by post, which contains your student ID (e.g. s9abcde), a master password, and an email address. It is recommended to keep your master password as you might need it to create a new password in the future. For more information, please have a look at this SIM portal guide.
Saarland University e-mail
Once you have your student ID and the current password, you can access your student email by clicking on this link: webmail.uni-saarland.de 
We strongly suggest forwarding the emails from this account to your private email because you will be receiving University news and updates to your UdS email. To know how to forward it, please check this guide on how to forward Uds mail.
Living in Germany topics
Book flights that reach Germany before the semester begins. Even though the winter semester usually starts around the middle of October (this year 2020, on November 2), we recommend to arrive 1 or 2 weeks before the semester begins, so you can have enough time to settle at your accommodation, start to get to know the city and campus, and finish any pending requirement.
Finding a room can be hard, but not impossible. We strongly recommend to start learning about the housing market (e.g. amount of offers, prices, requirements, platforms) early on and while you're still in your home-place.
There are 4 main types of accommodations:
University residence halls
Private dormitories
Shared flats/houses
Non-shared flats/houses
University residence halls are managed by the Saarland Student Services (Studentenwerk im Saarland in German). They have multiple buildings across Saarbrücken and Homburg and offer individual, shared, and family flats to enrolled students. They are one of the best options for students and that's why a room in one of these residencies is highly sought after. To apply for a room, use this application platform from the Saarland Student Services.
Disclaimer: The Edutech dept. doesn't have any access to the aforementioned platform, nor has any influence in the selection decision. For any question or doubts, learn more at their website or contact them at info@studentenwerk-saarland.de
There's also a market of residence halls or dormitories offered by private institutions. Some of them are geared towards students. The following article from the Saarland Student Services provides more information about this and includes some links to private dormitories.
Shared flats and houses, known in Germany as WGs, are another housing option with a wider variance of prices, offers, and locations. The application process to live in a WG (Wohngemeinschaft, which quite literally means "Residential Society") is quite informal and varies from WG to WG but most of them will request an interview (that can sometimes be done online) to get to know you, and some kind of proof for rent payment.
Similarly, as with WGs, the private market for renting non-shared flats or houses is quite robust and naturally with an even wider variance of prices, offers, and locations.
The following webpage from the Saarland Student Services contains some links to private housing offers (WGs and non-shared accommodations). Other popular websites are wg-gesucht, studenten-WG, WG-suche.de, immowelt.de, and Facebook groups.
Accommodation tips:
– The Housing Office and the Welcome Center also help international students find accommodation.
– Contracts usually last one year, so pay attention to the location before making a decision. Ideally, try to stay in Saarbrücken close to downtown or in one of the Uni dorms; Dudweiler is also an option.
– If you want to check how long the bus will take to the Uni from/to that place, you can download the Saarfahrplan app to check transportation ("Universität Campus" bus stop) connections, frequency of buses, time of travel, and so on.
– Ideally, when you arrive in Saarbrücken you should already know where to stay. Otherwise, temporal housing is an appropriate option; for this, we recommend staying in hostels, Airbnb, or the like for a start. However, as mentioned below in the "Address in Germany – Residence Registration" topic, you will need to give notice of your address to the government, and hostels/ hotels are not an accepted address to use as registration.
The costs of living in Germany may vary depending on the city. Fortunately, Saarbrücken is not expensive in comparison to other university cities. On this link, you will find some general information on what the expenses are on average for a student. Also the DAAD website offers some information on this topic as well. Additionally, the "Deutsches Studentenwerk" (German Student Union) has published a short video on the topic of "financing your studies", summarizing the very basics on this issue, a must-watch for everyone thinking about studying in Germany!
Address in Germany (residence registration)
Residence Registration: In Germany, you must notify to the local government where you live within two weeks of arrival. For this, you need to fill in this confirmation form (here is an unofficial English translation just for guidance purposes) with the information provided by your landlord, and to bring it to a local office along with your passport and some photos. Registration is free of cost. In case of any doubt, ask your landlord or a German-speaking friend to help you with the German form.
Each local office is called Bürgeramt (link in German) and the main one is located at the Saarbücken Rathaus (town hall). You can do the registration there or in any of the offices listed here (link in German). Keep in mind that opening hours are not the same every day.
If you don't live in Saarbrücken, you need to check which office applies to you. Find more information here.
Once you have your new address in Germany, tell the Studierendensekretariat to update that because all your letters will be sent there. Each time you change your address while you stay in Germany, you will need to register again at the respective local office. The re-registration process is always free of charge. When going back to your home country you have to unregister at a local office.
Public transport (free for UdS students)
Each semester fee payment includes the payment of your semester public transport ticket. This allows you to travel free of charge within the Saarland region on buses, trams and local trains. Once you obtain your UdS card, use one of the validation machines found around the campus to stamp the public transport ticket on your UdS card.
The public transportation is handled by SaarVV. You will find timetables on their webpage or you can download their app called 'Saarfahrplan'. From March 2020, you can also travel to Luxembourg by bus for free.
You can take German language classes while doing your studies and we highly recommend that. It is even better, but not obligatory, to know some German before starting your studies. German language knowledge will give you more opportunities and it will increase the chances of, for example, having a part-time or summer job during your studies, obtaining an internship or securing a job in Germany once completing the master. The University offers two types of German courses. Courses that run during the lecture period are free for enrolled students, and intensive courses take place between semesters and they do have a cost. Please contact them directly for further questions on that topic. The registration period for the German courses (that run during the lecture period) normally starts some days after the semester begins.
There are some private language schools where you can study German. The costs of these courses vary depending on some factors, such as the time of the day, the number of hours per week, the location of the institute, the type of course, etc. We suggest doing some research on the internet before paying any tuition fees.
It's important to mention that, unfortunately, you will not get Credit Points (CPs) by completing any kind of language course because German is not mandatory in any of your EduTech mandatory courses and English (level B2) is already a prerequisite at the time of application. However, as stated above, we recommend taking German language courses for your personal development.
KEEP CALM and…
– If you still have questions… you may want to contact or visit the Welcome Center for further assistance. For things like the LSF (registering courses) or Uni WLAN (i.e. eduroam), your tutors and fellow students may help you sort things out once the semester begins, provided that you completed the enrollment.
– Remember to follow our Official Facebook Page where we share updates and important news/dates for you.
– If you are still curious about life in Saarbrücken, you can have a look at this brochure.
– If you want to have a quick look at our Uni and EduTech facilities, enjoy this video.
Don't worry – the first days may feel overwhelming, but everything will work out eventually. Our tutors also prepare an introductory event at the beginning of the semester that will help you orient yourself.
FAQ: Frequently Asked Questions
Related to CLASSES
Will classes be online in the upcoming Winter Semester 2020/21?
This upcoming Winter Semester is a challenge for all educative institutions. That is why the EduTech dept. will offer a blended format of classes. Some classes will be carried out online, others will be held offline, while other classes will have both online and in-person sessions. That is why we recommend coming to Saarbrücken as soon as possible. In case it's impossible for you to come the first weeks of November, you will be allowed (exceptionally) to join the courses online (via MS Teams and/or Moodle, to be arranged with each Professor/Lecturer/Tutor). Bear in mind that for courses offered by other departments (e.g. Computer Science dept.) you will need to personally contact the course instructor(s) to learn about how their course will be held and if you would be allowed to join remotely.
Lastly, keep into consideration that most online courses will have live sessions, therefore, you will need to be connected/online at the time of the course in German time (UTC +2).
Related to ADMISSION and REJECTION
When will I receive my admission/rejection letter?
You will receive your admission/rejection letter during the second half of August 2021 or early September (please, do not send us e-mails before September 15th).
I received an admission letter but I cannot enroll or travel this year. Can I use it to enroll and start the master's the next year?
No, the admission letter can be used only during the year of application and it is not transferable for the following year.  You will need to apply again and upload all your documents the same way you did it this year. Due to the variable amount of applications we receive each year, being accepted or rejected in one year doesn't have an influence on the likelihood of being accepted or rejected in another year.
I received an admission letter. Do I need to send my documents by email/post?
No, you will be requested to upload your documents to the SIM portal (the same portal where you applied some weeks ago). For more information about this, please check the Enrollment guide from the Admissions Office.
I don't agree with being rejected. Can you review my documents again?
Unfortunately, it is not possible. If you want to make a formal complaint, you will find instructions about that in your rejection letter.
Related to VISA
I am having problems to obtain an appointment for the visa, how can you help me with this?
We are aware that these processes can be difficult and time-consuming. Unfortunately, the EduTech department cannot assist you with these visa issues. We are not responsible, nor do we have the authority to deal with enrollment or visa processes. You can contact the Welcome Center for additional help about enrollment, enrollment requirements issues, and visa advice. We hope they can help you.
What matters the most is that you complete the enrollment process on time, because as long as you achieve that, you can arrive at Saarbrücken later in the year.
In case you decide to postpone the start of your studies until the next winter semester (October 2021), what we can offer is to write a letter stating that you have been accepted this year and that you might be accepted again next year when you re-apply (the same process you carried out this year). You could take that letter to the embassy next year so that you can ask for an appointment in advance.
I got a visa appointment later than the start of the semester; can I still enroll or attend classes?
Yes, but only if you complete the enrollment before the deadline stated in your admission letter and if your arrival is no later than the end of the examinations period of the Winter Semester (i.e. late January/ early February). Once you are enrolled, you officially become an EduTech student. If you cannot make it on time for the first introductory week, you will still be allowed to participate in the classes online, but we strongly recommend you to come to Saarbrücken as soon as possible, as there will be still in-person meetings with professors, tutors, and classmates. Please contact us by email in case you will arrive to Saarbrücken after the semester start.
We wish you good luck in the enrollment process and we hope to see you face-to-face soon!